Create reservations quickly even without guest information
Change the price easily and without bureaucracy
Add guests automatically by name, document or email
Add companions (optional)
Change accommodation even after creating the reservation
Specify the reservation source for channel-targeted analysis
Add expenses, payments and observations
Automatically generate the voucher, guest file, invoice and receipt
Add discounts and additions with one click
View all booking history by date, time and user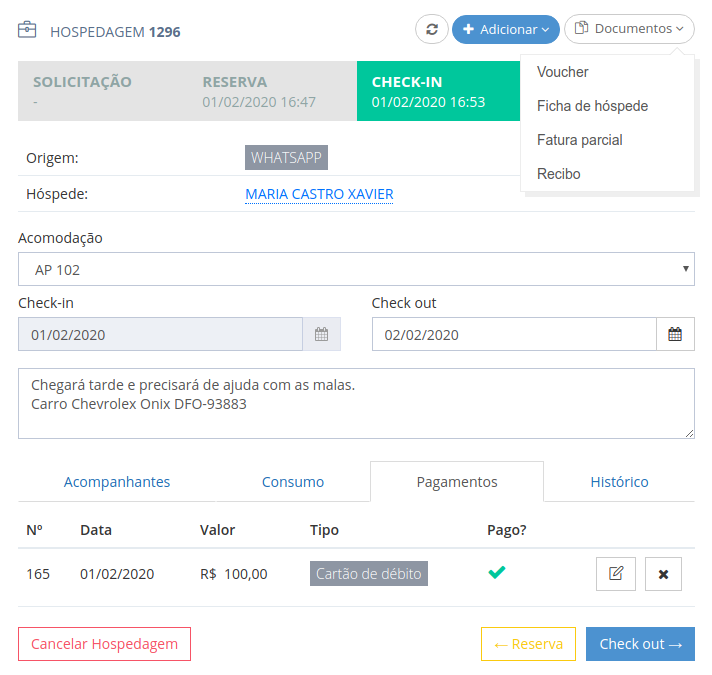 Choose the best plan for your business
Access by tablet or cell phone
Fully customizable for computers, tablets and smartphones. Access from anywhere.
Custom Registration
Choose the mandatory and optional guest registration fields.
Flexible rates
Choose the convenient rate by booking with discounts or additions.
Users registration
Easily add collaborators with specific access permissions.
User history
Have a complete history of the actions of each user of the system.
Payments
Manage all payments made and outstanding quickly and easily.
Alerts
Alerts that indicate the entry and exit expiration, with automatic cancellations.
Shared accommodations
Reservation of dorms in shared rooms for hostels. See more
Inventory control
Inventory control with restriction options and complete history.
Overbooking control
Control center for overbooking, indicating the affected reservations quickly. See more
Support
Fast and efficient support via email, phone, and WhatsApp with audio and video.
Security
Connections in a secure environment, encryption of information and backups.
Do you need to adapt to the specific rules of your business?
Faq
Frequently asked questions
Drop us an email if you couldn't find an answer to your question in the following list.
How does the trial period work?
They are 15 days to validate in practice if the system suits your business. Nothing is charged at this stage!
How is the system installation?
Fully online and does not require physical installation. Simply register and access it through a computer, smartphone or tablet.
How is the system configured?
After registration, redirection takes place for the configuration steps. Optionally, our team can do the whole setup.
Where is the information saved?
All data is safely saved in the cloud. Thus, they can be accessed from anywhere and device.
How is the support?
The support of our team is a differential factor. We are always available by email, phone and WhatsApp. We have more than customers, we have friends and partners.
How to pay a premium plan?
The payment is in the system itself via credit card, automatically renewing in the monthly, quarterly or annual cycle.
How to cancel a premium plan?
Cancellation can be done at any time at no additional charge by migrating the subscription to the free plan.
Is the system customizable?
Completely customizable, either by configurations or by requesting additional modules and functionality.